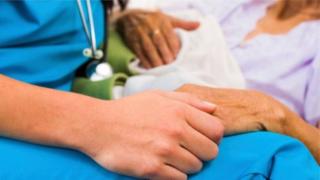 A radical shake-up to make Northern Ireland's health and social care system fit for the 21st Century has been unveiled.
Health Minister Michelle O'Neill has set out a 10-year plan to improve a system at "breaking point".
She outlined 18 time-specific actions based on the Bengoa Report.
Her plan does not mention hospital closures, but said services within the trusts will have to meet criteria to prove they are viable and to stay open.
First Minister Arlene Foster said the plan "represents a challenge to politicians, but it is a challenge this executive is going to meet head on".
Deputy First Minister Martin McGuinness added: "Change has to happen and the only question is whether it will happen in a controlled, planned fashion or unfold out of control.
"There is only one responsible choice to make."
Opposition politicians have questioned the lack of details in the plan, which is not costed.
'No quick fix'
The priorities outlined in Ms O'Neill's plan, Delivering Together, include:
A renewed focus on prevention and keeping people well
Better capacity in primary care, based on substantial additional investment
Reform of hospital services
A renewed focus on partnership and co-design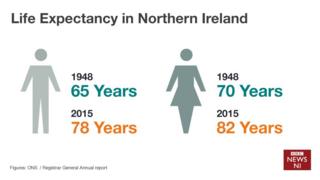 Northern Ireland's health system had not changed quickly enough to meet the needs of the population, Ms O'Neill told MLAs.
"Our current delivery models have had a negative impact on the quality of care," she said. "The current model is unsustainable.
"If we continue as we are now, the system in 10 years would need 90% of the entire Executive budget."
The minister said her report did not offer "a quick fix".
"We have an opportunity for a 'fresh start', supported by the executive – not just the will of one minister or one department," she said.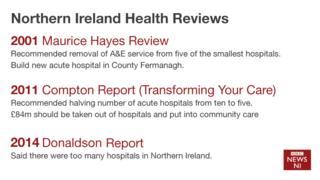 "There is total agreement across the executive that this needs to be done.
"This change will be planned, managed, incremental – this is not a 'Big Bang'.
Meaningful change did not happen overnight, said Ms O'Neill, and would require time, money and the support of government, staff and those who use our health and social care services.
Mrs O'Neill said a plan to tackle waiting lists would be drawn up by early next year.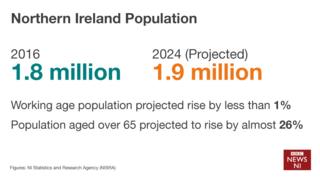 By spring, there would be investment to ensure every GP practice has a named district nurse, health visitor and social worker, she said.
Further support for looked after children – children for whom the state has taken on parental responsibility – would be in place by late 2017, she added.
Michelle O'Neill said she was also keen to explore new roles such as advanced nurse practitioners and physician associates.
She is increasing the number of GP training places to 111. Next year, there will be 12 additional places, with 14 more the following year.
Opposition MLAs have criticised the health minister's response to the Bengoa report, with Ulster Unionist health spokesperson Jo-Anne Dobson questioning the lack of detail in the minister's vision.
The SDLP's Mark H Durkan said a "spectre of doubt" hung over the plans.
'Ambitious, and wholly necessary'
A review into Northern Ireland's health service was commissioned by Stormont ministers seeking advice on how to improve services, cut waiting lists and care for an aging population.
Professor Rafael Bengoa, chair of the expert panel behind the review, said Northern Ireland's health and social care system faced "a stark choice".
"It can either resist change and see services deteriorate to the point of collapse over time, or embrace transformation and work to create a modern sustainable service that is properly equipped to help people stay as healthy as possible and to provide them with the right type of care when they need it," he said.
"We have tried to produce a report that will make a practical contribution to implementing change and which will support the minister's ambitious, and wholly necessary, roadmap to reform.
"Transformation will not be simple, but the panel has no doubt that Northern Ireland has both the people and the energy to deliver a world class health and care system."
Read more: http://www.bbc.co.uk/news/uk-northern-ireland-37729603