A rare misstep for the Oscar-winning director is an adaptation of Ben Fountains acclaimed novel flattened by ill-fitting experimentation with new technology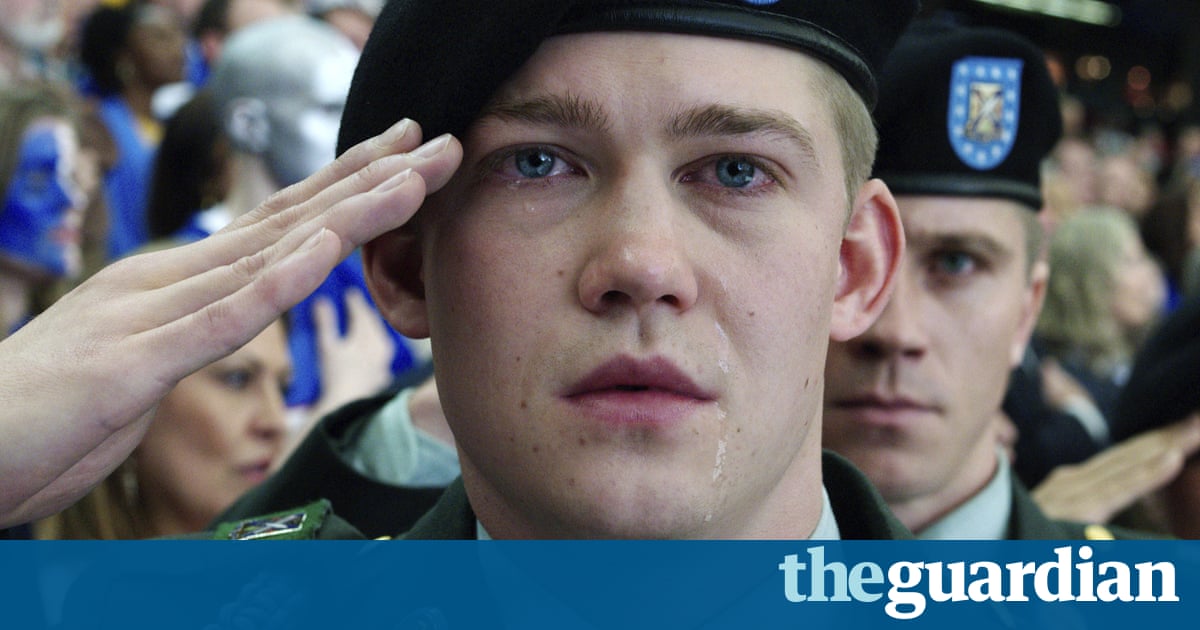 Theres a lot going on in Billy Lynns Long Halftime Walk, an alternately somber and boisterous film about the effect of combat on America. But despite the great wealth of compelling psychological, interpersonal and social drama that this promises, the complexities are left to those behind the camera to unravel. For director Ang Lee, he sees his latest project as a way to revolutionize how we experience cinema.
Its a lofty goal but Lees coming off the back of his Oscar win for the visually stunning adaptation of Yann Martels Life of Pi, a film that dazzled us with 3D wonders, arguably placed ahead of emotional engagement. But that was a project that demanded a skilled special effects team, a story too extraordinary to be told without. His follow-up is another adaptation, this time of Ben Fountains satirical award-winning novel about veterans and Lees keen to use it as a guinea pig for a new format.
The key here is immersion and as well as 3D, the film utilizes an increased frame rate of 120 frames per second, compared with 48 for The Hobbit trilogy. To the uninitiated, its that ultra-HD feel a high-end TV often adds, removing the slightest blemish but also a familiar gloss, making the biggest blockbuster feel like a documentary. Its a strange test subject for this technology and Lees two-hour argument that this will be how all films should be viewed in the future is a failed one.
The story follows Billy Lynn (newcomer Joe Alwyn), a young soldier returning from a heroic tour in Iraq where media attention has turned him into a national celebrity in the US. Along with his squadron, hes being pushed around the country on a promotional tour, which is set to culminate during the halftime show of a Thanksgiving football game. But Lynn is struggling to acclimatize and a series of flashbacks showcase the difficult journey thats led him to this day.
When The Hobbit first unleashed an increased frame rate on audiences, feedback was mixed and by the end of the trilogy, converts were thin on the ground. Its an interesting concept to use an even faster frame rate for a film that exists in a real setting, with the idea that emotions should feel more genuine and the story more involving. But the irony is that the novelty of the technique ultimately makes the film feel like even more of a construct. The intimacy of certain scenes feels invaded, and its a struggle to feel emotional involvement within the flashy technique.
Its a curious, often lifeless film that has something to say and at times, almost makes a point or two, but too often it meanders awkwardly and Lees decision to shoot it in this way only serves to show up the inadequacies even more. Any false note, and there are quite a few from a cast of newcomers, is amplified and when a note doesnt ring true, it falls with a thud, harder than usual.
Taking away the technology, theres still a jarring mismatch between source material and film-maker. Fountains novel was praised for its post-modern satire, something that has only made it to the screen in brief glimpses. Theres a meta sub-plot about the squadrons heroic actions being adapted for the big screen with jabs made about the generic nature of Hollywoodised war films and Lee does deserve credit for not turning the project into American Sniper 2. But one feels as if there was a smarter, sharper, sadder film to be made here. Its almost there in the scenes between Lynn and his sister, played by MVP Kristen Stewart, that threaten to force reality through the 3D. But theyre sadly not enough to keep us involved.
Alwyn, effortlessly masking his British accent, makes a strong impression as Lynn and hints at better things to come in future roles while small appearances from Vin Diesel and Steve Martin make for amiable distractions. Its just a film that never really finds its footing, a problem that would have been noticeable with or without the increased frame rate. Its just that at 120 frames a second, its so much more noticeable.
Read more: https://www.theguardian.com/film/2016/oct/15/billy-lynn-long-halftime-walk-review-ang-lee-war-drama