Willkommen bei den Hartmanns takes humorous look at how Germans deal with the new arrivals – but critics say refugee protagonist is little more than plot device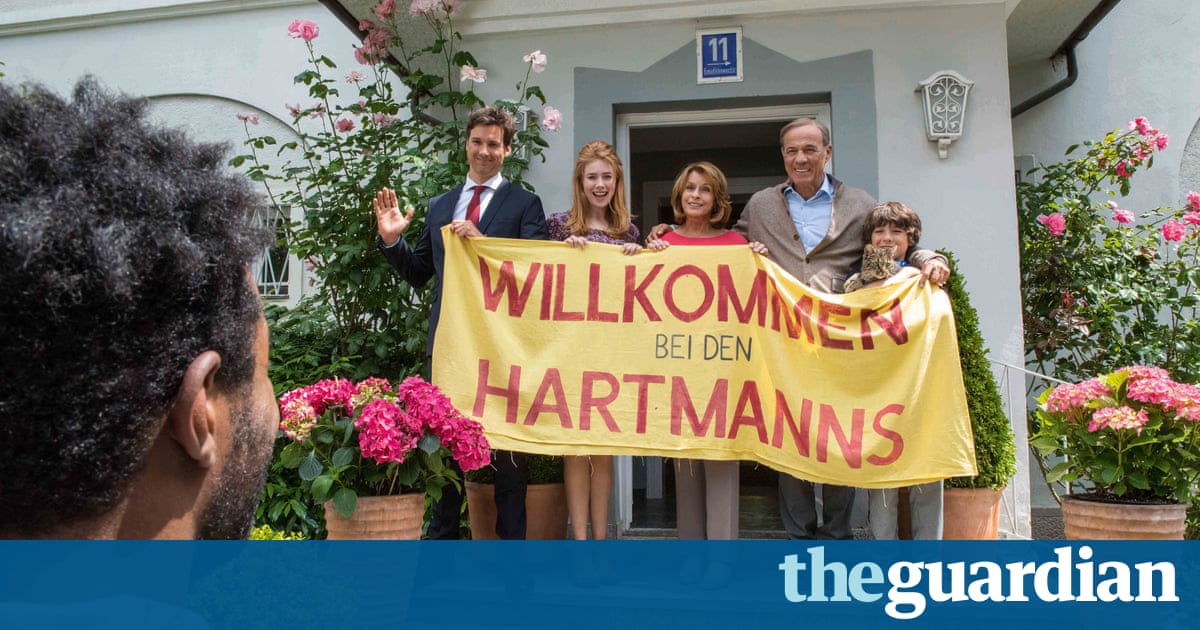 The refugee crisis may have divided Germany and sown discord in family households, but it could ultimately help the country be more at ease with its new-found liberal identity. That is the optimistic thesis proposed by the countrys first refugee-themed comedy.
Willkommen bei den Hartmanns (Welcome to the Hartmanns), which features some of Germanys biggest stars and opens in cinemas on Thursday, tells the story of Diallo, a Nigerian asylum seeker who is taken in by a family in a posh district of Munich after mother Angelika, a retired headteacher played by Senta Berger, visits a local refugee shelter.
The newcomers arrival triggers a series of domestic dramas father Richards late-life crisis, daughter Sophies failed love life, workaholic son Philips burnout and grandson Bastis poor grades which are eventually resolved in a rollicking finale involving clashes between Pegida-style patriotic citizens and leftwing activists outside the Hartmanns home.
The arrival of over a million migrants and refugees in Germany since the start of 2015 has until now mainly inspired films of a darker nature. In February, long-running German TV crime franchise Tatort ran an episode with a plot line that evolved around the death of a group of migrants who had suffocated in the back of a lorry, echoing a real-life tragedy on a motorway in Austria in 2015.
At the start of this year, Gianfranco Rosis documentary Fire at Sea, observing the refugee crisis through the eyes of Lampedusa locals, also won the top prize at the Berlinale film festival.
But Willkommen bei den Hartmanns is the first to try to gain some comic mileage out of recent events. Director Simon Verhoeven does so by directly incorporating some of the stories that have dominated the news in Germany and around Europe over the last year.
A taxi driver begins stalking Sophie after rescuing her from what he believes to be a sexual assault of the kinds perpetrated in Cologne on New Years Eve, while the Hartmanns tensions with their crucifix-wearing, Polish-surnamed neighbour come across as a direct nod to recent diplomatic standoffs between western and eastern European countries.
Its enough for Frau Merkel to invite the entire third world into our country were not going to do the same in our home as well, says Richard, initially dismissing his wifes desire to take in a refugee as borne of a helpers syndrome. Better than an asshole syndrome, his daughter Sophie quips back.
Verhoefen, who started developing the films screenplay before Angela Merkels decision to keep open Germanys borders to thousands of refugees stranded in Budapest last September, however tries to be even-handed when drawing up caricatures.
Pensioners at Munichs refugee shelter engage in absurd one-upmanship over their volunteering with my refugees. One of the asylum seekers auditioning for a bed at the Hartmann residency is a man in his 40s, claiming to be an unattended minor. And at the end of the film, one of Diallos former roommates at the shelter turns out to be an Isis sympathiser after all.
We Germans are still so inhibited about our own identity even though we are a free, tolerant and great country, Sophies love interest, played by Austrian-Tunisian actor Elyas MBarek, complains at one point in the film. Weve got to stand up and defend those values.
Reviews of the film have been mixed. While praising the films intentions, Moritz von Uslar in weekly Die Zeit bemoaned a lack of classic punchlines: Shouldnt material like this, which catches our society at its most vulnerable, nervous and insecure, have produced a film that is not just OK, but brilliant, wild, provocative and incorrect in the best sense of the word? Others have pointed out that the refugee character, supposedly the films protagonist, ends up as little more than a plot device to solve Germanys own domestic dramas.
Played by Belgian actor Eric Kabongo who is pictured but not named on the posters promoting the film asylum seeker Diallo eventually manages to gain a residence permit.
Its an optimistic ending to an optimistic film: two weeks before the films release, Merkel met Nigerias president, Muhammadu Buhari, to discuss how the countrys asylum seekers who have had their application rejected could be returned more swiftly to their home country. The approval rating for Nigerians applying for asylum in Germany currently lies at about 8%.
Read more: https://www.theguardian.com/world/2016/nov/02/german-comedy-film-explores-impact-refugee-crisis-willkommen-hartmanns