The musician brings her Hope Six Demolition Project on tour to rail against social ills, and confirm her status as a forceful commentator
Its more than 20 years since the release of PJ Harveys first masterpiece, To Bring You My Love, and five since her second, Let England Shake. Few major artists have so profoundly changed their themes between such peaks, and almost none of Harveys reach and stature are today attempting what she does: to take on the state of the world.
Perhaps thats ceased to be a job for pop music, which long ago surrendered any claim to influence how we think about the world, and focused on its principal role of being a diversion from it. But that hasnt put Harvey off, nor should it have. Its one hell of a task, mind; one that takes either stupidity or nerve to assign yourself and Harvey is anything but a fool. Where pop as a whole shrugs, she trains a fierce gaze. If Let England Shake was obliquely a protest album one that delved into the past to illuminate the present its contemporary companion piece, and Harveys latest, The Hope Six Demolition Project, is overtly so.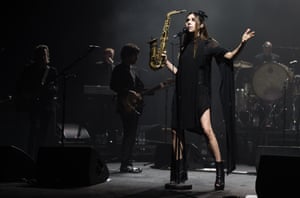 Read more: https://www.theguardian.com/music/2016/oct/31/pj-harvey-review-hope-six-demolition-project-protest