The Oscar-winner delivers an electrifying performance as a restless woman in postwar England but the play lacks a sense of place, time and purpose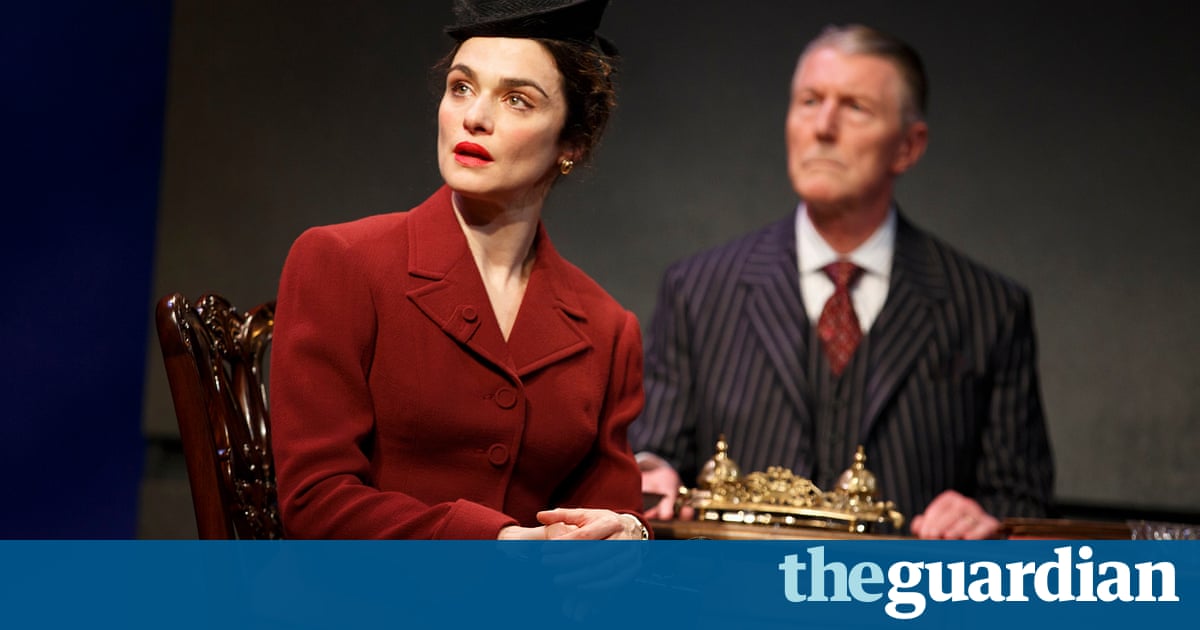 For Susan Traherne, a former resistance courier and the heroine of David Hares Plenty, now revived at the Public Theater, the war ended with the liberation of France. Then the real battle began.
Susan (given galvanized life by Rachel Weisz) returns to an England miserable, grey, and loveless. She cant resign herself to a postwar life of peace and plenty. As she explains to Brock (Corey Stoll), the diplomat who will become her husband, women who served as she did feel rather restless back in England. So she hurtles from job to job and perhaps from lover to lover, restive in body and mind. She cant remake the world as she wants it to be; she cant endure it as it is. Brave, ineffectual, and possibly mad, shes Hedda Gabler in a powder blue sheath dress.
Plenty is a thorny sort of play. It moves back and forth in time, from 1943 to 1962, and can be understood in ways both literal and metaphorical. This highly wrought exploration of a womans complicated psychology is also an allegory for postwar Britain and the ways in which some of the fruits of victory withered on the vine, leaving basic social structures (government, capitalism, relations between men and women) more or less unchanged. Its figurative use of Susans infertility to suggest Englands sterility is perhaps too obvious, but otherwise Hare manages the trick neatly, wittily and wryly.
Because the play works on so many levels and delights in so many ambiguities, it requires a firm sense of place and time and purpose, which David Leveauxs revival does not offer. The flashbacks to the war have a nice specificity, but the scenes set afterward dont feel nearly as particular. A large carousel bisected by a sturdy wall wheels Mike Brittons props and furniture on and off, but one place seems very much like another, one conflict too much like the next. Some of this is perhaps intentional a suggestion of the drabness and sameness of the postwar world but it stalls the play rather than pushing it onward. The action ought to seem more desperate or more desolate, but instead that set whirls on, dignified and unconcerned.
As Susan, Weisz has some big heels to fill. The role has been played by Cate Blanchett, Meryl Streep and originated by Kate Nelligan, whose performance, nearly 40 years ago, some theatergoers still remember with adulation. Weisz is an intolerably beautiful actress, yet she still manages to suggest vast reserves of intelligence and feeling below the surface glamor. She sometimes strains for effect, employing a panting, gasping cadence to suggest Susans mania and flinging her body around the stage with a studied artlessness. And she could more strongly suggest the relationships with her rackety friend Alice (Emily Bergl) or with Brock (whom Stoll renders oddly colorless). But hers is a high-voltage performance, pulsating with alternating currents, flashing against the bleakness of Susans world.
Read more: https://www.theguardian.com/stage/2016/oct/23/plenty-review-rachel-weisz-rises-above-flawed-david-hare-revival